Bridge to Translation - Immunotherapy from Bench to Bed side
Cellular immunotherapy requires the set-up of GMP-compatible procedures.
The transfer of experimental methods to clinical scale cell engineering includes
Automation and up-scale of cell product manufacturing
Set-up and validation of quality control
Product characterization
Cell Product Manufacturing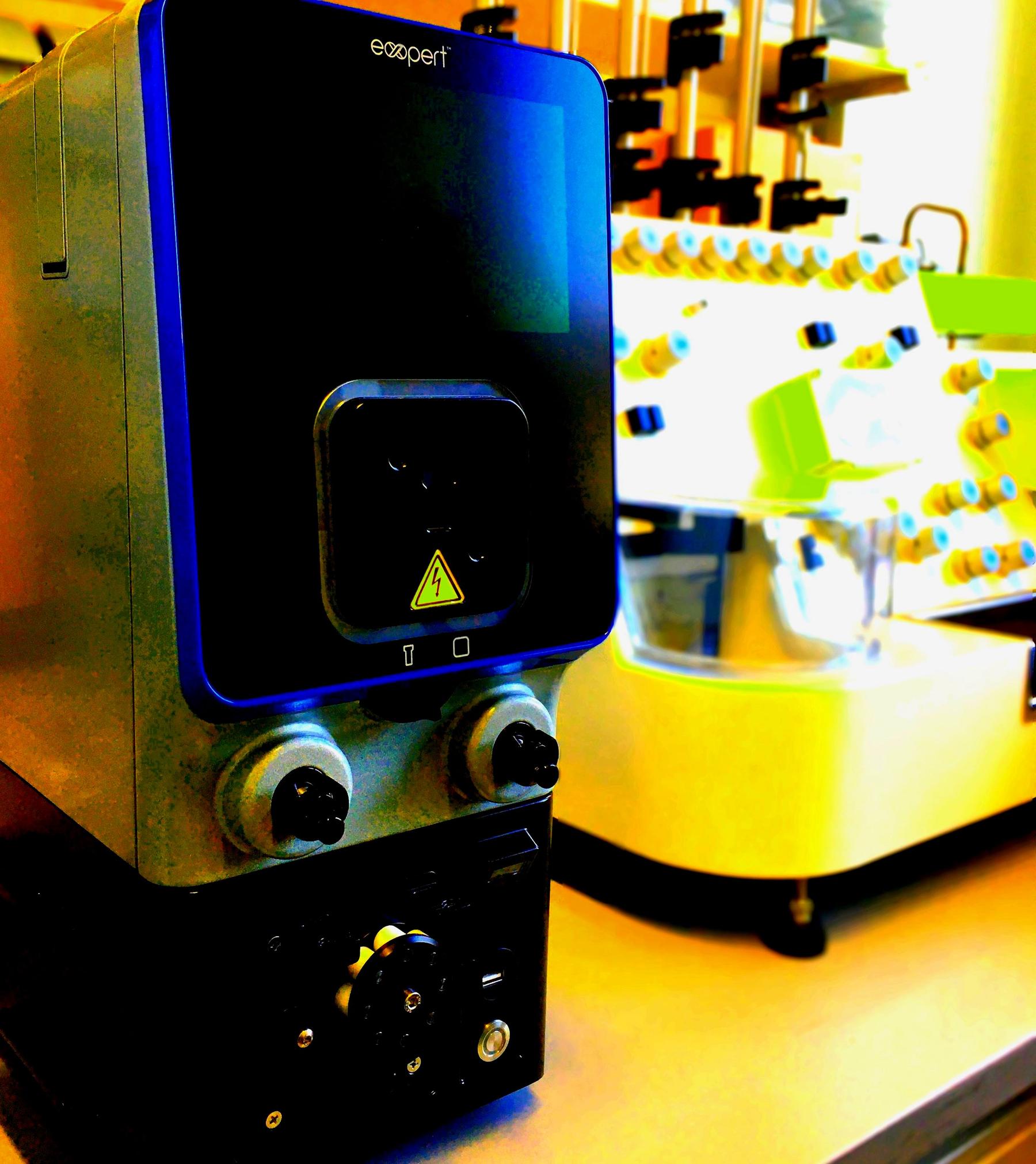 For clinical scale cell engineering in a functionally closed system we chose the "CliniMACS Prodigy" device. It offers a platform for GMP-grade cell processing applications enabling fully automated washing, fractionation, cultivation, transduction and magnetic seperation of cells in a functionally closed system.
The platform´s flexibility allows production of a wide range of cell products under S2 conditions. Further, automation within this device allows harmonization of cell-production processes in case of multicentric production strategies in clinical studies.
With the electroporator "GTx" (MaxCyte) we also have a GMP-compatible platform for the production of CRISPR/Cas-engineered cell therapy products, which can be combined with our existing platform via a tube system. The new range of non-viral "genetic engineering" processes enables the development of a wide variety of innovative T-cell therapy approaches.
Electroporation uses an electric field to temporarily make cell membranes permeable. CRISPR/Cas ribonucleoprotein complexes can be channelled into the cell interior through the resulting pores. In the process, DNA can be specifically modified at any point in the genome, allowing genes to be switched off (knock-out) or inserted (knock-in).
Set-up of the GMP-conform manufacturing process includes generation of SOP, selection of GMP-compatible reagents and up-scale of lab protocols. Pre-validation runs are performed in order to establish the manufacturing process, train staff and prepare production approval.
"MACSQuant Analyzer" offers a GCP-compatible high-throughput platform for flow-cytometry-based quality control. With a range of automated features, this flow cytometer lays the foundation for standardization of analysis and gating procedures.
Absolute quantification of cell populations allows dosing of cell products
Automation allows harmonization and standardization of quality control analyses in case of multicentric production
Development of MACSQuant "Express Modes" offers fast and easy quality control analyses
Quality control strategies are set-up and validated in accordance to the requirements of regulatory authorities.
According to regulatory requirements cell products are pre-clinically characterized using established validation processes and infrastructures:
Specificity
Purity
Potency
Identity
Standardly, stability assays are perfomed in order to determine the shelf-life of the cell products.
- 2 Patent Applications
- Stief TA, Kaeuferle T, Müller TR et al. Protective T-cell receptor identification for orthotopic reprogramming of immunity in refractory virus infections. Mol Ther. 2021 May 28:S1525-0016(21)00303-8. doi: 10.1016/j.ymthe.2021.05.021
- Kaeuferle T et al. CRISPR-Cas9-Mediated Glucocortioid Resistance in Virus-Specific T cells for Adoptive T Cell Therapy Posttransplantation. Mol Ther. 2020 Jun 11:S1525-0016(20)30292-6. doi: 10.1016/j.ymthe.2020.06.002.
- Kaeuferle T et al. Strategies of adoptive T-cell transfer to treat refractory viral infections post allogeneic stem cell transplantation. J Hematol Oncol. 2019 Feb 6:12(1):13. doi: 10.1186/s13045-019-0701-1
Dr. Theresa Käuferle
Head of Pre-GMP Facility
Dr. von Hauner Children´s Hospital
Dep. of Haematology/Oncology
Tel.: 089/4400-52338