---
Research topics
Diet and microbiome
Mucosal immunology
Inflammatory bowel disease
---
The gastrointestinal (GI) tract harbors a complex community of microbes (e.g. bacteria, fungi, archaea, viruses) and various food antigens. Diet is one of the key environmental factors that shapes the gut microbiota. In healthy individuals no pathologic features occur, despite lamina propria infiltration with various immune cells and separation from luminal microorganisms and dietary antigens by only a single epithelial layer and mucus. Complex regulatory pathways must therefore maintain intestinal immune homeostasis in a healthy GI tract.
My group focus on childhood inflammatory and allergic diseases of the GI tract caused by a dysregulated interaction between diet, the microbiome and the mucosal immune system, like inflammatory bowel diseases or eosinophilic esophagitis.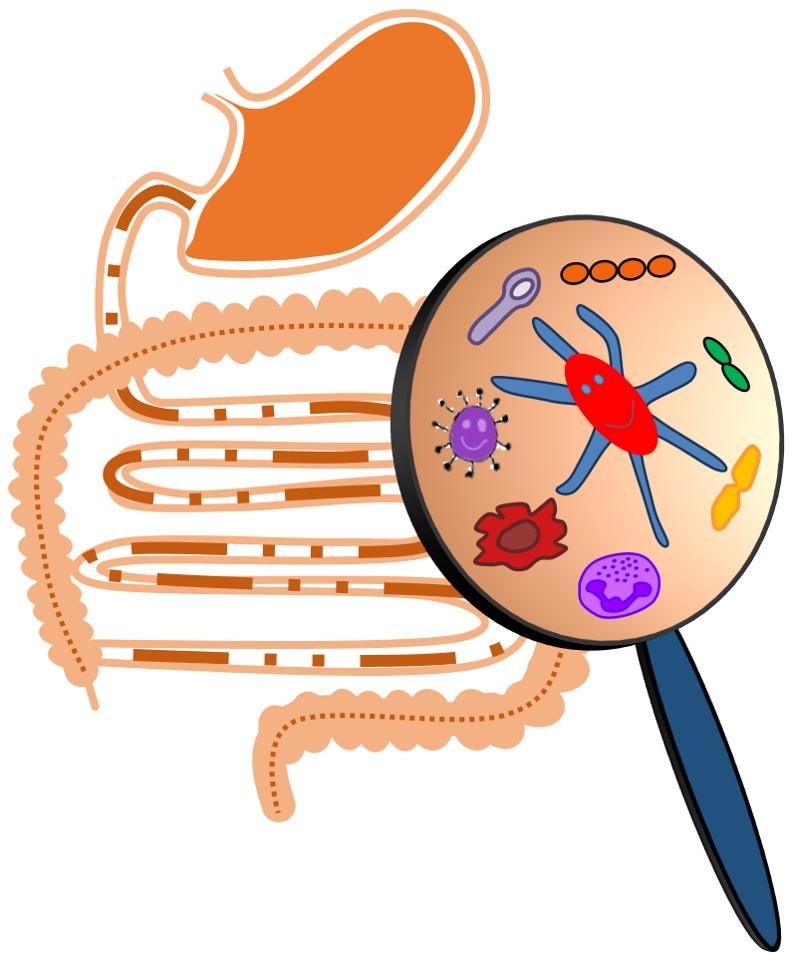 Impact of exclusive enteral nutrition on microbiome signatures and function in pediatric Crohn's disease (SFB1371/P01)
Crohn's disease (CD), a major subtype of inflammatory bowel disease (IBD), is characterized by cycles of remission and relapse. Genetic susceptibility in combination with compositional and functional changes in the intestinal microbiome are considered to play a key role in the etiology of IBD. Exclusive enteral nutrition (EEN) is highly effective for induction of remission in pediatric CD. EEN means exclusive feeding with a liquid formula for eight weeks. EEN is able to control disease activity, supports mucosal healing, improves malnutrition and growth, and has an excellent safety profile. However, due to the highly demanding adherence to exclusive formula feeding, EEN is not considered a long-term maintenance treatment. Given that clinical efficacy of EEN in pediatric CD is associated with shifts in the intestinal microbiota, we aim to understand the role of the microbiota in EEN. Our work includes analysis of the types of bacteria present (microbiome sequencing), what they are doing (fecal microbiome) as well as examination of the gut immune cell signaling.
Weblink: SFB1371
Content will be available soon.
Content will be available soon.
Schwerd Lab / Translationale Gastroenterologie in der Pädiatrie
Kinderklinik und Kinderpoliklinik
im Dr. von Haunerschen Kinderspital
Ludwig Maximilians Universität München
Lindwurmstr. 4
80337 Munich, Germany
Visiting Adress:
Research Building, Lindwurmstraße 2a
Rooms KO.21
80337 Munich
Germany
Phone: +49 (0)89 4400-57776
Fax: +49 (0)89 4400-57898